Meet Carol Swaim, Holistic Nutrition Consultant
Carol Swaim holds a B.A. in Chemistry and an M.B.A. in Finance from the University of New Mexico. She enjoyed a long career in corporate financial management, including service as Budget Director for Scripps Health in San Diego, California, and as CFO and Managing Director of Business Operations for The Hamner Institutes for Health Sciences in Research Triangle Park, North Carolina.
Upon return from service in the Peace Corps (Albania, 2006 – 08), she decided to pursue an encore career in health and wellness, a lifelong interest and practice that began when she became an ACE-certified aerobics instructor in the early 1980s. Carol has worked in catering and in the event kitchen of a bed and breakfast destination resort in Albuquerque, New Mexico. She moved to Boulder to study nutrition and received her certificate of Nutrition Consultant in March, 2016, from Bauman College Holistic Nutrition and Culinary Arts. While earning her certification she studied everything from Musculoskeletal Health and Sports Nutrition to Stress and Endocrine Interactions.
Carol conducts her business, Kitchen Connections, as a Holistic Nutrition Consultant and Kitchen Coach in Durango, Colorado, where she lives with her husband. She enjoys cooking, eating for health, and dancing with her friends in ZUMBA® classes.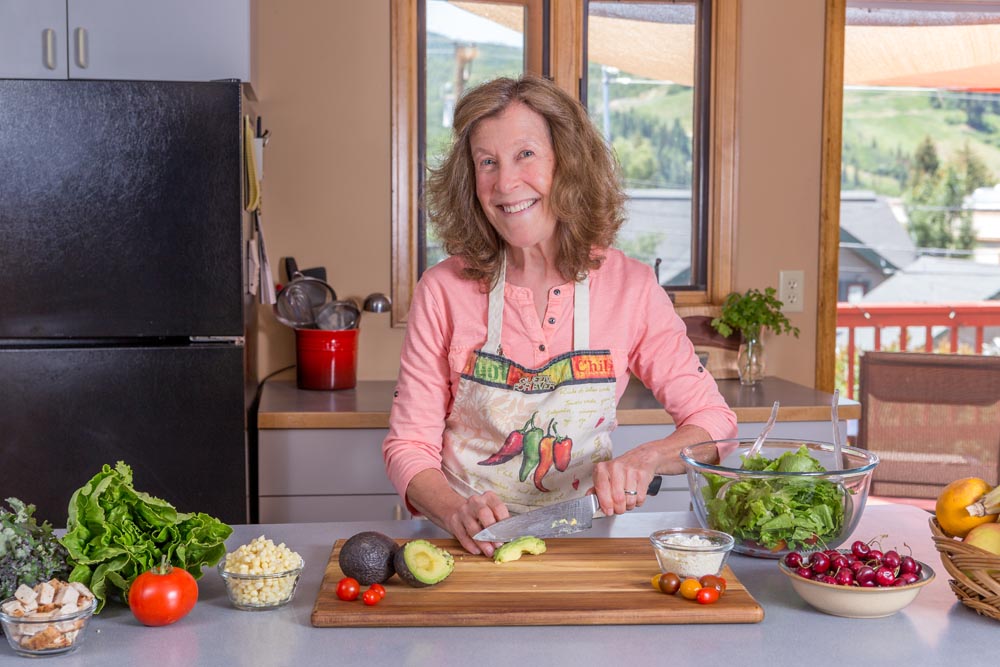 Make friends with food. Make food with friends.
Credentials
Certified Nutrition Consultant, Graduate with Honors: Bauman College, Holistic Nutrition and Culinary Arts
M.B.A., Finance
B.A., Chemistry, Biology
Member, National Association of Nutrition Professionals
Certified ZUMBA instructor, AFAA certified Group Exercise instructor
Member, Durango Sports Club, Durango Community Recreation Center
Carol Swaim: Completed Nutrition Consultant Curriculum
Term I – Foundations of Nutrition
NC 101: Eating for Health
NC 102: Digestive Physiology
NC 103: Biochemistry
NC 104: Nutrition Analysis
NC 105: Macronutrients
NC 106: Micronutrients
NC 107: Nutritional Counseling
NC 108: Case Presentations

Term II – Therapeutic Nutrition
NC 201: Stress and Endocrine Interactions
NC 202: Men's and Women's Health
NC 203: Liver Detoxification
NC 204: Gastrointestinal Health
NC 205: Blood Sugar Regulation
NC 206: Weight Management
NC 207: Clinical Assessment
NC 208: Cardiovascular Health
NC 209: Mental Health
NC 210: Musculoskeletal Health and Sports Nutrition
NC 211: Immune and Autoimmune
NC 212: Cancer
NC 213: Case Presentation

Term III – Practicum
NC 301: Practicum Preparation
NC 302: On-Site Practicum
NC 303: Practicum Reporting